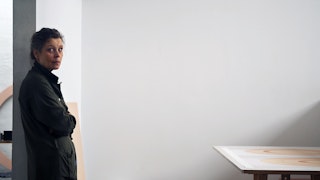 Sophia Kalkau - Stoffet og ægget
Documentaries
Sophia Kalkau - Stoffet og ægget
SOPHIA KALKAU - STOFFET OG ÆGGET
For Sophia Kalkau er de bedste værker dem, der gør hende tavs. Det er også det, hun selv stræber efter at skabe, gennem værkerne "Det Ægyptiske Æg" og "Marmorstelen", som vi følger hele udformningen af i dette medrivende kunstnerportræt.
Kalkau inviterer os ind i sin finurlige tankestrøm, og lader os opleve arbejdet bag de afbalancerede geometriske figurer og minimalistiske former, der kendetegner hendes værker. Vi tages også med bag om udviklingen af de selviscenesatte fotografier, der i 2018 vandt årets Kunstkritikerpris ved udstillingen 'Line of Circles'.
...
SOPHIA KALKAU - THE SUBSTANCE AND THE EGG
To the artist, Sophia Kalkau (b. 1960), great art leaves you speechless - This is also what she strives to achieve in her own art. Kalkau works with a variety of medias including photography, sculpture and installation. Her art is often characterized by the use of geometric shapes and minimalistic figures.
Throughout this portrait of Sophia Kalkau we follow the entire process of creating "the Egyptian Egg" and "the Marble Stele". We experience the huge work behind each piece and her unique way of thinking.
YEAR: 2019
CAST: Sophia Kalkau
PRODUCER: Jacob Jørgensen
DIRECTOR: Mads Jørgensen & Henrik Lundø
DURATION: 28:51 min
LANGUAGE: Danish
Documentaries