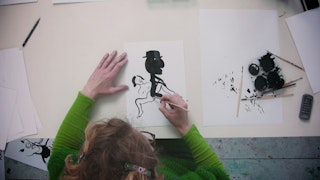 Kathrine Ærtebjerg - Øjet, hullet og himlen
Documentaries
Kathrine Ærtebjerg - Øjet, hullet og himlen
KATRHINE ÆRTEBJERG - ØJET, HULLET OG HIMLEN
Billedkunstneren Kathrine Ærtebjerg sigter efter at ramme det spontane, det poetiske, det følelsesmæssige og det skæve der kommer til udtryk, når hun skaber uden at lade sig selv gruble for meget. Hendes malerier besidder både en barnlighed og et mørke, der udtrykker en voksen kvindes erfaringer. I JJ Films portræt af billedkunstneren kommer vi tæt på hendes arbejde både i atelieret og i arbejdet med udsmykningen af trappen på Brandts Klædefabrik. Værkerne skabes for øjnene ad os, når Kathrine Ærtebjerg på det hvide lærred fremmaner væsner fra sin egen fantasiverden. Vi hører om inspirationen fra andre kunstneres værker, om krop og om køn, og ikke mindst om, hvor lyset i værkerne kommer fra.
...
KATRHINE ÆRTEBJERG - THE EYE, HOLE AND HEAVEN
Painter Kathrine Ærtebjerg aims towards the spontaneous, the poetic, the emotional and the crooked that comes to show, when she creates her works without letting herself put to much thought to it. Her paintings posses both childlike elements and darkness which combined is to express a grown woman's experiences. In this documentary portrait of the artist, we step closer to Kathrine Ærtebjergs creations in her studio as well as during the decoration of the stairway in Brandts Klædefabrik. Her works are taking shape right in front of us, as Kathrine Ærtebjerg evokes beings from her own imaginary world on the white canvas. We learn about her inspiration from works of other artists, from body, sex and not least about what underlie the peculiar light in her paintings.
YEAR: 2011
CAST: Kathrine Ærtebjerg
PRODUCER: Jacob Jørgensen
DURATION: 28:35
LANGUAGE: Danish
Documentaries