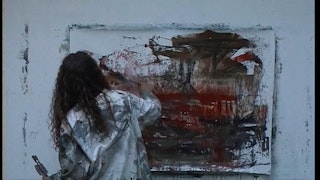 Et portræt af Maja Lisa Engelhart
Documentaries
Et portræt af Maja Lisa Engelhart
ET PORTRÆT AF MAJA LISA ENGELHARDT
Den danske kunstner Maja Lisa Engelhardt er i dag bosat i Paris. Her lever hun i en form for kunstnerisk eksil, som skal sikre, at hun kan udfolde og udvikle den danske malertradition, hun selv kommer fra. Paris gør hende fri til at fremkalde en indre skaberkraft, der hidrører minder fra barndommen, lyset i det danske forår og hendes kristne tro. Vi følger hendes arbejde og hendes egne fortolkninger af værkerne – både når det omhandler de kristne motiver, som bl.a. ses i hendes udsmykning af Skelund og Grinderslev Kirke og hendes barndomserindringer, som udfoldes i hendes abstrakte malerier på blandt andet DCA Gallery i New York og i Dahlerups bygning på Glyptoteket.
...

A PORTRAIT OF MAJA LISA ENGELHARDT
Today the Danish artist Maja Lisa Engelhardt lives in Paris. She has chosen a self-imposed exile in order to secure her development of the Danish painting tradition. Paris helps her to be open and she is thereby able to give rise to the memories from her childhood, the special light of spring in Denmark and her faith in christianity. We follow her at work and we listen to her own interpretations of the works – both with regards to her christian motives which are seen in her decorations of Skelund and Grinderslev Churches and with regards to her childhood memories which are displayed in her abstract paintings exhibited at DCA Gallery in New York and in Dahlerup's Building at the Ny Carlsberg Glyptotek.
YEAR: 2000
CAST: Maja Lisa Engelhardt
PRODUCER: Jacob Jørgensen
DURATION: 28:5
LANGUAGE: Danish
Documentaries