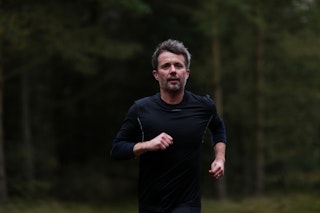 Min Vej - En film om Kronprins Frederik
Documentaries
Min Vej - En film om Kronprins Frederik
MIN VEJ - ET PORTRÆT AF KRONPRINS FREDERIK
Hvordan bevæger man sig frem af en vej man ikke selv har valgt? Kronprins Frederik af Danmark har siden barnsben kæmpet med at passe ind i en rolle som andre havde valgt til ham. Min Vej tager os bag hoffets lukkede døre for at fortælle historien om Kronprinsens lange rejse for at stå på egne ben i den historiske institution, om de udfordringer han satte sig selv undervejs, og den kærlighed til Kronprinsesse Mary som i dag ruster ham til at løfte de opgaver der en gang synes for store.
...
MY WAY - A PORTRAIT OF CROWN PRINCE FREDERIK
How do you move down a road, which you yourself didn't choose? For Frederik, the crown prince of Denmark, it has not always been easy to fit into a role, which others have decided for him. My path is a portrait of a Crown Prince who is struggling to come to terms with his inherited responsibility. But it is also a film about a man who, like any other, must learn to find himself, his strengths and the people that can help him along the way.
YEAR: 2018
CAST: H.R.H the Crown Prince of Denmark
DIRECTOR: Mads Jørgensen & Henrik Lundø
PRODUCER: Jacob Jørgensen
DURATION: 59:30
LANGUAGE: Danish with UK subs
Documentaries