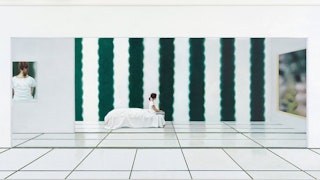 Anette Harboe Flensburg - Skrøbelige konstruktioner
Documentaries
Anette Harboe Flensburg - Skrøbelige konstruktioner
ANETTE HARBOE FLENSBURG - SKRØBELIGE KONSTRUKTIONER
Billedkunstneren Anette Harboe Flensburg har mødt stor anerkendelse for sine interiørmalerier med deres dragende og psykologisk ladede rum, der leger med opfattelsen af dimensioner, farver, flader og lys.
Nu står Anette Harboe Flensburg overfor at skulle forny sig selv som kunstner. Hun har nemlig besluttet, at det er tid til at gå nye veje og lade et menneske træde ind i rummene. Dette valg varsler både nye beslutninger og nye udfordringer.
Vi følger Anette Harboe Flensburg, mens hun skaber en ny billedserie med afsæt i Edvard Munchs maleri 'Pubertet' og med niecen Mille som omdrejningspunkt. Vi hører desuden om den inspiration, Anette Harboe Flensburg blandt andet finder i sin families fortid.
...
ANETTE HARBOE FLENSBURG - FRAGILE CONSTRUCTIONS
Painter Anette Harboe Flensburg has received great acknowledgement for her interior inspired paintings. These are showing and exuding alluring and psychological charged rooms while experimenting with the conception of dimension, colour, surfaces and light.
The documentary unfolds as Anette Harboe Flensburg is facing a transition of renewal as an artist. Her choice augurs both new decisions as well as new challenges.
We follow Anette Harboe Flensburg as she creates a new series of paintings with inspiration from a piece by Edvard Munch called Pubertet (puberty), with her niece, Mille, as a focal point. Relatives plays an on going role, as we are furthermore engaged in the inspiration, Anette Harboe Flensburg finds in the past of her family.
YEAR: 2011
CAST: Anette Harboe Flensburg
PRODUCER: Jacob Jørgensen
DURATION: 28:41 min
LANGUAGE: Danish
Documentaries