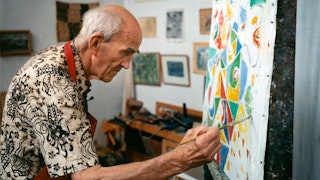 Ejler Bille - Jeg vil høre græsset gro
Documentaries
Ejler Bille - Jeg vil høre græsset gro
EJLER BILLE - JEG VIL HØRE GRÆSSET GRO
Ejler Bille er en central figur i dansk kunst, som har formået at slå igennem med sit eget særegne udtryk i billedkunsten, såvel som i lyrikken. Fra sit foretrukne feriested på Bali inviterer han indenfor og fortæller i et åbenhjertigt interview om sit lange virksomme liv som kunstner. Her reflekterer han over sin måde at arbejde på, hans udvikling og de inspirationskilder, som har påvirket hans kreative virke igennem tiden. Han viser rundt på kunstmuseer i Danmark og fortæller om sine værker og de mange fascinerende historier, som ligger bag.
...

A PORTRAIT OF EJLER BILLE
Ejler Bille is a central character on the Danish art scene, and he has managed to feed through with his special expression within visual arts as well as lyric poetry. From his prefered holiday destination on Bali he gives a candid interview and he tells us about his long active life as an artist. He reflects upon his work methods, his development and the sources of inspiration which have affected his creative performance through time. He takes us on a tour to art museums in Denmark and he tells about his works and the many fascinating stories behind.
YEAR: 1999
CAST: Ejler Bille
PRODUCER: Jacob Jørgensen
DURATION: 44:10
LANGUAGE: Danish
Documentaries