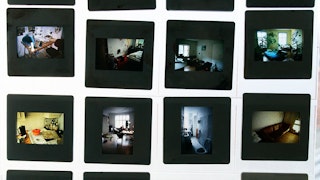 Et portræt af Kaspar Bonnén
Documentaries
Et portræt af Kaspar Bonnén
ET PORTRÆT AF KASPAR BONNÉN
I denne portrætfilm udfordrer den danske billedkunstner og forfatter Kaspar Bonnén menneskets forhold til rum og følelser. Med sine malerier, digtsamlinger og installationer skildrer han, hvordan det konkrete rum også indeholder mentale, sociale og politiske rum, som er personlige og følelsesladede. Vi snubler, når vi forsøger at indfange det konkrete rum i hans malerier. Vi stilles ansigt til ansigt med følelsers flygtighed, når han lader flamingoordene "I will always love you" flyde hver til sit på vandet og vi tvinges til at reflektere over pengenes forgængelige karakter, når han agerer rig tigger og skriver "Please help me" med skinnende mønter på asfalten.
...
A PORTRAIT OF KASPAR BONNÉN
In this portrait the Danish artist and writer Kaspar Bonnén challenges man's relationship to space and feelings. With his paintings, poetry and installations he describes how the tangible space also includes psychological, social and political space that is personal and emotional. We stumble when we try to capture the actual space in his paintings. We are faced with the elusiveness of feelings when he leaves the flamingo words "I will always love you" floating their separate ways in the water and we are forced to reflect on the perishable nature of money when he is playing the role of a rich beggar and writes "Please help me" with shiny coins on the pavement.
YEAR: 2010
CAST: Kasper Bonnén
PRODUCER: Jacob Jørgensen
DURATION: 25:56
LANGUAGE: Danish
Documentaries