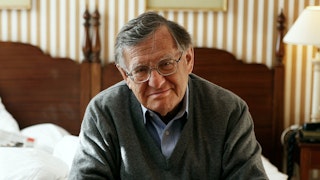 Herbert Pundik - En udenrigskommentators erindringer
Documentaries
Herbert Pundik - En udenrigskommentators erindringer
HERBERT PUNDIK - EN UDENRIGSKOMMENTATORS ERIDRINGER
I 1993 stoppede Herbert Pundik som chefredaktør ved Politiken. Siden har han fortsat som senior udenrigskorrespondent, hvor han især beskæftiger sig med striden i Mellemøsten. Herbert Pundik har skrevet adskillige bøger og høstet mange anerkendte priser, som f.eks. Cavling-prisen, Modersmålsprisen, Radioens Rosenkær-pris og Ebbe Munch-prisen. JJ Film tegner et gribende portræt af den fascinerende personlighed. Hør hans bud på baggrunden for striden i Palæstina, om nødvendigheden af at oprette en jødisk stat, om udsigten til dialog og om de omkostninger, som krige overordnet set har haft for ham og hans familie.

...

HERBERT PUNDIK
In 1993 Herbert Pundik retired from his position as chief editor at the newspaper Politiken. Since then he has held a position as senior foreign correspondent with a special engagement in the debate about the conflict in the Middle East. Herbert Pundik has written a number of books and he has received several reputable awards like the Cavling Prize, the Modersmål Award, the Radio's Rosenkær Prize and the Ebbe Munch Award. JJ Film has made a moving portrait of this fascinating and strong personality. Herbert Pundik talks about the reasons for the conflict in Palestine, about the need for establishing a Jewish state, about the outlook for the creation of a dialogue and about the costs of war – in general and for him and his family.
YEAR: 2006
CAST: Herbert Pundik
PRODUCER: Jacob Jørgensen
DURATION: 59:22
LANGUAGE: Danish/English
Documentaries