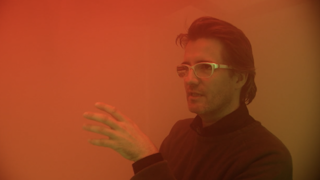 Olafur Eliasson - Space is Process
Documentaries
Olafur Eliasson - Space is Process
OLAFUR ELIASSON - SPACE IS PROCESS
'Space is Process' giver et unikt indblik i en kreativ begavelse ud over det usædvanlige og følger Olafur Eliasson i årene 2004-2009 under det krævende arbejde med blandt andet de kunstige vandfald i New York og den store 'Take Your Time'-udstilling på MoMA sidste år. Men vi er også med på en mindre fotosafari et sted ude i de storslåede, islandske månelandskaber. Lys, rum og sansning er både i naturlig og kunstig form nøglebegreber i en æstetik, der er båret af enkle og klare idéer, og som først realiseres til fulde i mødet med tilskueren. Hvis det lyder abstrakt, er der blot så meget desto mere grund til at kigge med. Her demonstrerer Eliasson nemlig nogle af dem selv, og det er i Jørgen Clevin'ske vignetter med biograflærredet som optisk hjælpemiddel. Inspirerende, tankevækkende og legesygt.
...
OLAFUR ELIASSON - SPACE IS PROCESS
Studio Olafur Eliasson is the name of Olafur Eliasson's design studio in Berlin. It is one of Europe's most creative workplaces where Eliasson's world famous works are created in collaboration with scientists, engineers, architects, technicians and art historians. In this unique portrait JJ Film follows the Danish-Icelandic artist and his projects - from the first sketches to their final destinations where the world press is waiting with great expectations to see the talented 'Dane's' newest, artistic ideas. The film gets around many of Eliasson's largest projects from start to finish and gives the viewer a unique opportunity to meet the otherwise media-shy artist "behind the scenes".
YEAR: 2010
CAST: Olafur Eliasson
PRODUCER: Jacob Jørgensen
DURATION: 1:16:45 min
LANGUAGE: Danish/English
Documentaries