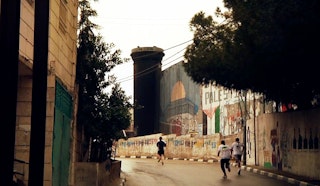 Palestine Marathon - Everyone has the Right to Freedom of Movement
Documentaries
Palestine Marathon - Everyone has the Right to Freedom of Movement
PALESTINE MARATHON - EVERYONE HAS THE RIGHT TO FREEDOM OF MOVEMENT
At organisere en maraton i verdens sandsynligvis mest konfliktbetændte region er lidt af en udfordring. Men de to danske kvinder Signe Fischer Smidt og Lærke Hein tager til handling og sætter sig for at organisere en maraton gennem Betlehem i Palæstina.
De motiveres af faktummet at alle ifølge FN har en fundamental ret til fri bevægelighed. En rettighed som palæstinensere imidlertid benægtes hver dag. En sammenhængende rute på 42.295 km findes slet ikke i Palæstina på grund af israelske check points, vejblokader og en afgrænsende mur. Hertil kommer, at den militante islamiske modstandsbevægelse, Hamas, er i mod at palæstinensiske kvinders deltagelse i maratonnet.
I samarbejde med en gruppe modige lokale kvinder trodser Signe og Lærke alle odds og skaber en livsbekræftende begivenhed midt i al kaosset. Dette er historien om den første maraton i Palæstina nogensinde. En film, der giver os håb.
...
PALESTINE MARATHON - EVERYONE HAS THE RIGHT TO FREEDOM OF MOVEMENT
To organize a marathon in what is probably the worlds most inflamed conflict region is quite a struggle. But the two Danish women Signe Fischer Smidt and Lærke Hein take action and embark on organizing a marathon through Bethlehem, Palestine.
They are motivated by the fact that everybody has a fundamental right to move according to the United Nations, however Palestinians are denied of that right everyday. A combined route of 42.195 km for a marathon doesn't even exist in Palestine because of Israeli checkpoints, roadblocks and a separation wall. On top of that, the militant Islamic resistance movement Hamas is against Palestinian women participating in the marathon.
Together with some brave local women Signe and Lærke defy all odds and create a life-affirming event in the midst of chaos. This is the story of the first ever marathon in Palestine. A film that gives us hope.
YEAR: 2014
CAST: Signe Fischer Smidt, Lærke Hein
PRODUCER: Jacob Jørgensen
DURATION: 58:00
LANGUAGE: English, Danish, Arabic
Documentaries