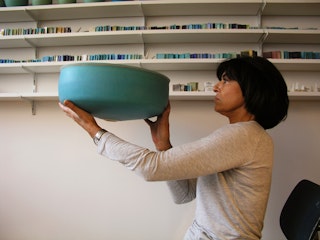 Et portræt af Alev Siesbye
Documentaries
Et portræt af Alev Siesbye
ET PORTRÆT AF ALEV SIESBYE
Det perfekte og simple kan hurtigt gå hen og blive kedeligt, mener kunstner og keramiker Alev Siesbye. Derfor stræber hun efter at hendes værker skal have noget af det 'andet', hvor værket synes at transcendere det, som er simpelt og bliver et interessant værk i sig selv. En proces som Siesbye ofte finder er fuldstændig ubevidst.
I denne dokumentar følger vi den tyrkisk danske kunstner Alev Siesbye, alt imens vi bliver inviteret indenfor i hendes atelier i Istanbul. Her følger vi hvordan Siesbye laver smukke og næsten æteriske vaser, der synes at svæve et sted over jorden, alt imens hun fortæller historier om hendes opvækst i den tyrkiske metropol, et ophold på en engelsk kostskole og hendes første møde med den flade danske jord.
...
A PORTRAIT OF ALEV SIESBYE
A perfect and simple thing can easily be boring, says ceramicist Alev Siesbye. Therefore, she strives after that place where her work transcends the simple and has that 'other' thing, that makes it all worth the effort. A process that she finds is often completely unconscious.
In this documentary, we follow Turkish-Danish artist and ceramicist Alev Siesbye, as she welcomes us inside her studio in Istanbul. Here we see how she makes unbelievable bowls and vases, that almost seem to float upon the ground, all the while she tells the story of her growing up in the Turkish Metropol, a stay at an English border school, and her first meet with the flat fields of Denmark.
YEAR: 2004
CAST: Alev Siesbye
PRODUCER: Jacob Jørgensen
DURATION: 28:46 min
LANGUAGE: Danish
Documentaries