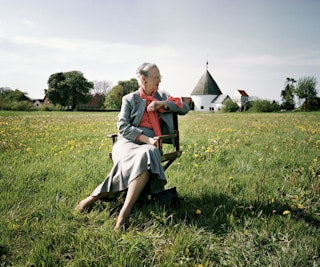 Margrethe
MARGRETHE
I 2015 fyldte Dronning Margrethe 75 år. I denne anledning producerede JJ Film sammen med TV2 et enestående portræt af Danmarks dronning. I portrættet kommer vi Hendes Majestæt nærmere mens vi følger hende i hendes hverdag. Vi oplever Dronningen i sol, regn og sne under både hendes royale ærinder og hendes fritidssysler. Undervejs fortæller hun blandt andet nærgående om hvervet som Danmarks regent, og forholder sig til personlige temaer såsom moderskab, den store kærlighed samt om det, at være Dronning i en brydningstid, hvor danskernes holdninger til Kongehuset, er stadigt mere delte. Ikke mindst fortæller Hendes Majestæt i filmen om, hvordan hun har formået at balancere værdigt mellem en nedarvet skæbne som offentlig person og de sideløbende passioner hun som privatperson har haft - om at være på én gang Dronning og Margrethe.
...
MARGRETHE
In 2015 Queen Margrethe II of Denmark turned 75 years old. On this great occasion JJ Film produced a unique documentary portraying The Danish Queen. In the documentary we become closer acquainted with Her Majesty, as we follow her in her day-to-day life. We experience The Queen in rain, shine and snow during her royal commitments as well as in her recreational pursuits.
Along the way she tells us about her own experience of her duties as the regent of Denmark, and elaborates on intimate subjects such as motherhood and the great love in addition to what it is like to be queen in a time of upheaval, where the Danish people's opinion about The Royal House is still more differentiated. Not least Her Majesty explains during the film, how she has managed in a dignified way to succeed balancing between an inherited destiny as a public person and at the same time maintaining the passions she might has had as a private individual – how she is simultaneously both The Queen of Denmark and Margrethe.
YEAR: 2020
CAST: H.M. Queen Margrethe, H.R.H. Prince Consort Henrik
PRODUCER: Jacob Jørgensen
DIRECTOR: Jacob Jørgensen & Henrik Lundø
DURATION: 40:27
LANGUAGE: Danish with UK subs
Documentaries