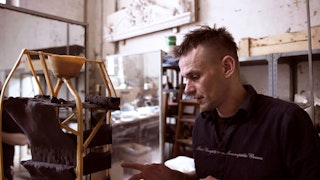 Et portræt af Martin Erik Andersen
Documentaries
Et portræt af Martin Erik Andersen
ET PORTRÆT AF MARTIN ERIK ANDERSEN
Martin Erik Andersens (f. 1964) værker består af en mængde forskellige materialer som sættes sammen til skulpturelle installationer og udsmykninger. Han anvender fx metaller, keramik, lys, lyd, tekstiler og papirmateriale som i kombination danner rumlige tableauer, hvor sansning og verdensanskuelse udfordres på nye måder.
I dette undersøgende portræt af den prisvindende kunstner og professor ved Kunstakademiet får man som seer mulighed for at trænge ind bag værkerne, for at få et indblik i kunstnerens proces og for at få en fornemmelse for Martin Erik Andersens budskab. Konstruktionerne skal vise sig at byde på mange lag; mildhed såvel som brutalitet, orden såvel som kaos samt væsentlige samfundskritiske beskeder. For Martin Erik Andersen er god kunst det, som forholder sig til sin samtid; det som stiller spørgsmål frem for at forære svar.
...

A PORTRAIT OF MARTIN ERIK ANDERSEN
Martin Erik Andersen is an award winning artist and professor at The Royal Danish Academy of Fine Arts. His works consists of a variety of different materials that he combines in sculptural installations and decorations. Metals, ceramics, light, sound, textiles and paper are amongst in the mixtures that make out his pieces, in which sensing and worldviews are challenged in new ways.
Experiencing this investigative documentary portrait, you will get the opportunity to reach pass the works and gain insight into the process of the artist as well as the meaning behind. The constructions will show to offer multiple layers; both mildness and brutality, order and chaos as well as substantial sociocritical messages. To Martin Erik Andersen good art is that, which addresses its contemporaries and asks questions rather than hand away answers.
YEAR: 2014
CAST: Martin Erik Andersen
PRODUCER: Jacob Jørgensen
DURATION: 26:46 min
LANGUAGE: Danish
Documentaries