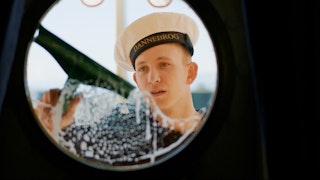 Kongeskibet - I dronningens tjeneste
Documentaries
Kongeskibet - I dronningens tjeneste
Kongeskibet - I Dronningens Tjeneste
I 90 år har Kongeskibet Dannebrog bragt kongehus og besætning sikkert gennem togter i dansk og udenlandsk farvand. I denne serie følger vi danske værnepligtige i deres træning som unge marineelever i søværnet, og frem til endelig togt med Kongeskibet i sommeren 2021. De unge konfronteres med militærprøvelser af streng disciplin og går samtidig en indre rejse i møde, om at finde sig selv. Dronningen trækker tråde tilbage til minder fra sin egen barndom, alt imens at Kongeskibet klargøres til det længe ventede togt i Nordatlanten.
Del 1 - Nye forpligtelser
Det er januar og Kongeskibet ligger endnu i vinterhi ved Flådestation Frederikshavn. Her skal Laura, Markus og de andre værnepligtige tilbringe de næste måneder og gennemgå søværnets basisuddannelse. Kendskab til våben, korrekt honnør og udmattende, fysisk træning er blevet hverdagskost for de unge, der snart skal på havet. Coronaen lurer dog forude, og både besætning og Dronningen er truet af spørgsmålet - kommer Dannebrog på havet i år?
Del 2 - Endelig ombord
Basisuddannelsen afsluttes med en udfordrende stroppetur, hvor Laura skal overvinde sin vandskræk. Endelig går de værnepligtige ombord på Kongeskibet, hvor Asgers fødselsdag bliver fejret og Sebastian fantaserer om muligheden for at chit chatte med Dronningen. Praktisk sømandskab indøves ned til mindste detalje, og både besætningen og Dronningen ser især frem til togtet mod Færøerne og Grønland.
Del 3 - Nordatlanten venter
Nikolaj, der har solgt sine ting og sagt sin lejlighed op, glæder sig til sin første rigtige udenlandsrejse. Dronningen fortæller anekdoter fra tidligere togter til Nordatlanten, men pludselig opstår der tekniske problemer i maskinrummet på Kongeskibet. Bekymrede afventer de værnepligtige besked på, om de når til Færøerne, til Dronningens officielle ankomst.
Del 4 - I medgang og modgang
Efter at være kommet sig ovenpå skuffelsen af et motornedbrud, indleder besætningen og Dronningen sit togt rundt om i Danmark. Laura, Peter og de andre værnepligtige ser tilbage på forløbet og venter sørgmodigt på at sige farvel til Dronningen og hinanden, efter 9 måneders samvær i medgang og modgang.
In this series, we follow young conscripts at Kongeskibet Dannebrog as they are confronted with the tough challenges of their service during their time at the Danish Military. Alongside with the Queen of Denmark, everyone is preparing for the long awaited journey towards the North Atlantic.
YEAR: 2022
DIRECTOR: Mads Jørgensen & Henrik Lundø
PRODUCER: Jacob Jørgensen
DURATION: 29:00
LANGUAGE: Danish
Documentaries