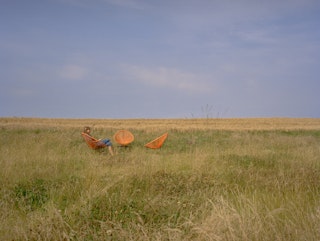 Klangfrø - Et portræt af Kirstine Roepstorff
Documentaries
Klangfrø - Et portræt af Kirstine Roepstorff
KLANGFRØ - ET PORTRÆT AF KIRSTINE ROEPSTORFF
Billedkunstneren Kirstine Roepstorff (f. 1972) er kendt for sine farvestrålende samfundskritiske collager, men har i de seneste år arbejdet med en fascination af vibrationer, lyd og bevægelse. En kunstneriskudvikling, der måske kan reflekteres i kunstnerens private liv.
I dette portræt kommer vi tæt på Roepstorffs kreative såvel som personlige udvikling og overvejelser, når hun kaster sig ud i nye og eksperimenterende projekter. Udstillingen i Den Danske Pavillon i Venedig udformes for øjnene af os, og vi tages med bag de rørende tanker og det store arbejde ved fremstillingen af værket 'Gongen' til DOKK1. Men ikke nok med Roepstorffs kunstneriske udfoldelser. Vi får også et unikt indblik i Roepstorffs personlige overvejelser, der resulterer i at flytte fra pulserende Berlin og tilbage til familiehuset, Damgaard, mellem træerne i Danmark.
...
SOUND SEEDS - A PORTRAIT OF KIRSTINE ROEPSTORFF
Artist Kirstine Roepstorff (b. 1972) is well known for her work in collage dealing critically with power structures and political systems. In the last couple of years she has been working with a fascination of sound and movement as seen in her stimulating artinstallations; "Gongen" and "Sound Seeds".
In this portrait of the artist, we step closer to Kirstine Roepstorffs creative mind and process when beginning new and experimenting projects. Through 3 years we follow her as she evolves in her artwork as well as in her personal life. We are on the side-line when the exhibition in the Danish Pavillion in Venice unfolds and we are brought along the process of creating 'Gongen' - Getting a unique and heartfelt insight on the thoughts behind it.
YEAR: 2017
CAST: Kirstine Roepstorff
PRODUCER: Jacob Jørgensen
DIRECTOR: Jacob Jørgensen & Henrik Lundø
DURATION: 28:47 min
LANGUAGE: Danish
Documentaries