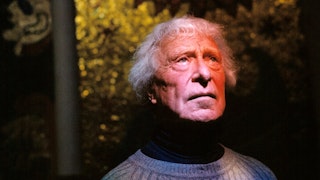 Et portræt af Carl-Henning Pedersen
Documentaries
Et portræt af Carl-Henning Pedersen
ET PORTRÆT AF CARL-HENNING PEDERSEN
Carl-Henning Pedersen ser tilbage på et langt og virksomt liv som kunstner. Fra sit landsted i Molesmes i Bourgogne beskriver han, hvordan et politisk engagement, en glæde ved musikken og et møde med kærligheden fører ham frem til en fascination af kunstens verden. Han bliver en af de grundlæggende medlemmer af Cobra-bevægelsen, der dannes i 1948 og er med til at skabe nye forudsætninger for kunstbegrebet. Vi følger hans arbejde i atelieret og ser nærmere på hans mange monomentale udsmykninger i mosaik og keramik, hans billeder på museer og hans bibelske tolkninger i Ribe Domkirke. Her giver han selv et bud på, hvorfor han om nogen har været med til at manifestere sig som internationalt anerkendt kunstner.
...
A PORTRAIT OF CARL-HENNING PEDERSEN
Carl-Henning Pedersen looks back at a long and active life as an artist. From his country home in Molesmes in Bourgogne he describes how political commitment, a joy of music and a meeting with love has led him to a fascination of the world of art. He becomes one of the founding members of the Cobra movement formed in 1948 which takes part in the creation of new conditions for the concept of art. We follow his work in the studio and we take a closer look at many of his monomental decorations in mosaic and ceramics, at his paintings on museums and at his biblical interpretations in Ribe Cathedral. Furthermore he comments on the fact that he has managed to gain international recognition as an artist.
YEAR: 1998
CAST: Carl-Henning Pedersen
PRODUCER: Jacob Jørgensen
DURATION: 51:00
LANGUAGE: Danish
Documentaries