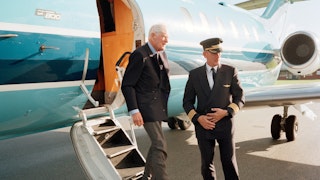 Mærsk Mc-Kinney Møller
Documentaries
Mærsk Mc-Kinney Møller
MÆRSK MC-KINNEY MØLLER
JJ Film tegner et personligt portræt af Danmarks mest respekterede erhvervsmand – skibsredderen Mærsk Mc-Kinney Møller. Hr. Møller har været en ledende skikkelse i den internationale shippingverden i mere end et halvt århundrede, og han har spillet en afgørende rolle i udvidelsen og udviklingen af A.P. Møller – Mærsk Gruppen. Mød manden bag magten i dansk erhvervsliv og få indblik i nogle af de mere personlige tanker og overvejelser, han gør sig om livskvalitet, værdier og holdninger.
...
MÆRSK MC-KINNEY MØLLER
JJ Film has produced a personal portrait of the most respected businessman in Denmark, the shipowner Mærsk Mc-Kinney-Møller. Mr. Møller has been the leading figure in the international shipping world for more than half a century, and he has played an important role in the development and expansion of the A. P. Møller-Mærsk Group. Meet the man behind the power of Danish business life and get insight in some of his more personal thoughts and considerations about life quality, values and attitudes.
YEAR: 1999
CAST: Mærsk Mc-Kinney Møller
PRODUCER: Jacob Jørgensen
DURATION: 31:15 min
LANGUAGE: Danish
Documentaries