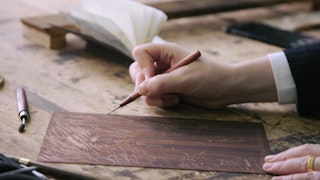 Kunsten at trykke - Kobbertryk
Kunsten at trykke - Kobbertryk
KUNSTEN AT TRYKKE - KOBBERTRYK
Kunsten at trykke er en reportageserie om dansk trykkekunst med afsæt i de tre trykketeknikker: Litografi, Træsnit og Kobbertryk. Her følger vi kunstnere og trykkeres samarbejde igennem de tre teknikker og får et unikt indblik i kunsten bag hver metode.
Ved kobbertryk arbejder man ikke med farve på en overflade men med fordybninger i kobber. I andet afsnit af reportageserien følger vi den islandske kunstner Ragnar Kjartansson, der for første gang kaster sig ud i kobbertrykkekunsten. Med den erfarne trykker Niels Borch Jensens på sidelinjen får kunstneren eksperimenteret med kobberets mange tegnemuligheder, men udfordres også af teknikkens begrænsninger.
THE ART OF PRINTING - ETCHING
'The Art of Printing' is a reportage consisting of three episodes covering the printing methods of lithography, wood engraving and etching. Throughout each printing technique we follow the work and cooperation between printing specialist and artist from sketch to the finished prints. We get a unique insight behind each of the methods but also the artist's process and thoughts when working with new materials and techniques.
The etching technique is where the surface of a cobber plate is scratched leaving dentations for the paint to use as printing surface. We follow artist Ragnar Kjartansson as he experiments with this printing technique for the very first time. With master printer Niels Borch Jensen on the side-line we are taught about etching's many possibilities but also its limitations.
YEAR: 2018
CAST: Michael Kvium, Rasmus Urwald, Ragnar Kjartansson, Niels Borch, Alexander Tovborg, Michael Schäfer
PRODUCER: Jacob Jørgensen
DIRECTOR: Mads Jørgensen
DURATION: 28:19 min
LANGUAGE: Danish