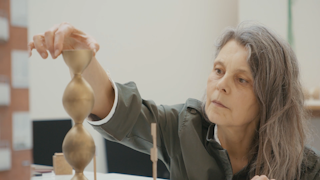 Sophia Kalkau - Zygote
Short formats
Sophia Kalkau - Zygote
Til Christmas Møllers Plads på Amager i København har Sophia Kalkau skabt det stedsspecifikke værk, Zygote, som består af en spejlsymmetrisk bronzeskulptur og to siddesten i granit. Den 10 meter høje bronzeskulptur er inspireret af omkringliggende arkitektoniske vartegn såsom spiret på Vor Frelser Kirke og klokketårnet på Kong Haakons Kirke. Skulpturens simple, bølgende overflade åbner imidlertid for mange fortolkninger og kan lede tankerne hen på det bølgende vand, som Amager er omgivet af.
Zygotes sirlige geometri fremstår enten elliptisk eller dråbeformet – afhængigt af, hvorfra skulpturen opleves – og spejles både horisontalt og vertikalt. Et dobbelt timeglas i bronze eller en kæderække af led, der kan gentages i det uendelige.
Titlen Zygote er inspireret af det græske ord 'Zygon', der betyder åg eller sammenbinding. Skulpturens spejlede former og geometriske balance refererer til åget som vægtudlignende bæreredskab, og samtidig refereres til skulpturens funktion som bindeled mellem Amager og Christianshavn. Zygote kan således ses som et symbol på fællesskab, forbindelser mellem steder og samhørighed mellem mennesker.
Kortfilmen er produceret i samarbejde med Ny Carlsbergfondet.
...
For Christmas Møllers Plads on Amager in Copenhagen, Sophia Kalkau has created the site-specific artwork, Zygote, which consists of a mirror-symmetrical bronze sculpture and two granite seating stones. The 10-meter-tall bronze sculpture is inspired by surrounding architectural landmarks such as the spire of Vor Frelser Kirke and the bell tower of Kong Haakons Kirke. However, the sculpture's simple, undulating surface opens up to various interpretations and may evoke thoughts of the rippling water that surrounds Amager.
The precise geometry of Zygote appears either elliptical or drop-shaped, depending on the perspective from which the sculpture is viewed. It resembles either a double hourglass in bronze or a chain of links that can be repeated indefinitely.
The title Zygote is inspired by the Greek word 'Zygon,' which means yoke or binding. The mirrored forms and geometric balance of the sculpture allude to the yoke as a weight-balancing tool, while also referencing the function of the sculpture as a link between Amager and Christianshavn. Zygote can thus be seen as a symbol of community, connections between places, and solidarity among people.
This short format has been produced in collaboration with The New Carlsberg Foundation.
———————————
YEAR: 2023
CAST: Sophia Kalkau
DIRECTOR: Mads Jørgensen
EDITOR: Henrik Lundø
DURATION: 04:07 min
LANGUAGE: Danish
Short formats