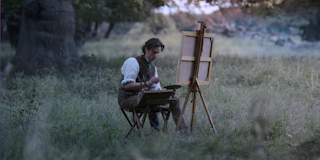 Ehrengard: The Art of Seduction
Fiction
Ehrengard: The Art of Seduction
Siden 2010 har JJ Film arbejdet på filmatiseringen af Karen Blixens Ehrengard sammen med Dronning Margrethe og Bille August.
Cazotte er en ung, selvudnævnt kærlighedsekspert, som hyres af Babenhausens intrigante storhertuginde. Han skal hjælpe hendes generte søn med finde en prinsesse og sikre en arving. Men planen giver bagslag og fører til skandale.
Filmen er instrueret af Bille August og produceret i samarbejde med SF Studios.
...

Since 2010, JJ Film has been working on the adaptation of Karen Blixen's Ehrengard, alongside Queen Margrethe II and instructor Bille August.
When a self-appointed expert on love tries to teach a timid prince the art of seduction, the plan backfires, leading to scandal - and unexpected romance.
The film is directed by Bille August and produced in collaboration with SF Studios.
———————————
YEAR: 2023
CAST: Sidse Babett Knudsen, Mikkel Boe Følsgaard, Alice Bier Zandén m.fl.
DIRECTOR: Bille August
PRODUCER: Marcella Dichmann
MANUSCRIPT: Anders Frithiof August
IDEA: Queen Margrethe II, Jacob Jørgensen
DURATION: 1:34:39
LANGUAGE: Danish