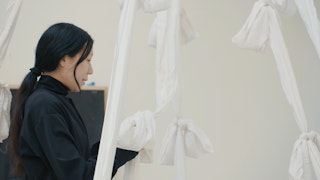 Jane Jin Kaisen
Short formats
Jane Jin Kaisen
Jane Jin Kaisen
Dette studio visit hos Jane Jin Kaisen er produceret for Ny Carlsbergfondet i anledning af deres årlige prisfest, som hylder personer, der yder en særlig indsats i kunstens tjeneste og for det danske kunst- og museumslandskab. Grundvilkåret for denne produktion er, at den er produceret på én dag.
Ny Carlsbergfondet om tildelingen af Kunstnerlegatet til Jane Jin Kaisen:
"Frem for at indhegne dine videoinstallationer i et blot fiktivt domæne på tryg afstand af virkeligheden derude, har du både politisk og poetisk skarpt gjort dem åbne for globaliseringens ofte smertelige kendsgerninger. Med et røntgenblik, der anspores af din blandede dansk-koreanske baggrund, indvæver du på anfægtende vis tråde som transnational adoption, globaliseret kapitalisme, kolonialisme, kvindeundertrykkelse, shamanisme og naturens dybere rytmer. Hos dig allieres sansning med koncept, drøm med dokumentation, myte med arkiv, erindring med politik."
...
Jane Jin Kaisen

This studio visit with Jane Jin Kaisen was produced for The New Carlsberg Foundation's Art Awards 2023 , which honors individuals who make a special contribution to the service of art and to the Danish art and museum landscape. The basic condition for this production is that it is produced in one day.
The New Carlsberg Foundation on the award of the Artist Grant to Jane Jin Kaisen:
"Instead of enclosing your video installations in a purely fictional domain at a safe distance from the reality out there, you have made them both politically and poetically open to the often painful realities of globalization. With an X-ray vision spurred by your mixed Danish-Korean background, you interweave threads such as transnational adoption, global capitalism, colonialism, female oppression, shamanism, and the deeper rhythms of nature in a provocative way. In your work, perception is allied with concept, dream with documentation, myth with archive, and memory with politics."

———————————
YEAR: 2023
CAST: Jane Jin Kaisen
PRODUCER: Sophie Kampmann
DIRECTOR: Mads Jørgensen
EDITOR: Henrik Lundø
DURATION: 03:53 min
LANGUAGE: Danish

Short formats