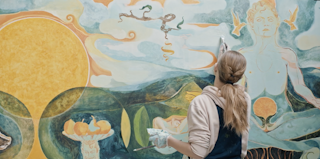 Mie Mørkeberg
Short formats
Mie Mørkeberg
Mie Mørkeberg
Mie Mørkeberg kredser om sammenhængene mellem det ydre og det indre, det drømmende, instinktive og underbevidstes udfoldelser i en sanselig verden. The Orange Dream, som hun netop har færdiggjort til Mercantec i Viborg, består af to værker i stort format, malet med olie på lærred og med en stedssensitiv tilgang til de lokaler, de er installeret i.
Mie Mørkeberg (1980) tog afgang fra Det Kongelige Danske Kunstakademi i 2006. Blandt hendes soloudstillinger kan nævnes Fruit Hunter på Galleri Tom Christoffersen, København (2022), Kryptomania på Trapholt, Kolding (2021) og Den Glemte Have på Brandts, Odense (2015). Mie Mørkeberg har udført adskillige udsmykningsopgaver, heriblandt til Roskilde Kommune, FN-byen og Konkurrence- og Forbrugerstyrelsen. Senest er hun blevet udvalgt til at skabe det historiske portræt af tredive betydningsfulde kvinder i dansk politik til Folketingets Samtaleværelse.
Mie Mørkeberg
In collaboration with Ny Carlsbergfondet we are introducing artist Mie Mørkeberg. Mie Mørkeberg works with the conncetions between the inner and the outer realities, our dreams, the instinctive, and the subconscious.

In 'The Orange Dream', Mørkeberg introduces us to her site-sensitive and sensuous world, presenting two large format oil paintings installed at Mercantec in Viborg.

YEAR: 2022
CAST: Mie Mørkeberg
PRODUCER: Jacob Jørgensen
DIRECTOR: Mads Jørgensen
EDITOR: Esben Thode Schultz
LANGUAGE: Danish
Short formats