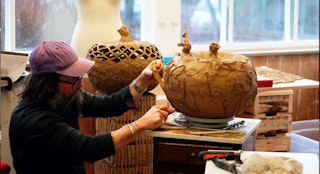 Peter Linde Busk
Short formats
Peter Linde Busk
PETER LINDE BUSK
Onsdag d. 26. februar blev Ny Carlsbergfondets Kunstpriser 2020 uddelt ved fondets årlige prisfest på Ny Carlsberg Glyptotek. Ny Carlsbergfondets Kunstnerlegater blev i år blandt andre uddelt til billedkunstner Peter Linde Busk. Han modtog kunstnerlegatet på kr. 175.000.
"De sidste 10 år har Peter Linde Busk markeret sig med et sammenhængende kunstnerisk udtryk, som er resultatet af stor materialebevidsthed og langsommelige arbejdsprocesser. Hans værker har faglig tyngde gennem deres mange kunsthistoriske og litterære referencer. Men også lethed, liv og ironi med deres helt særlige titler, der rammesætter vores forståelse", uddyber bestyrelsesmedlem Stine Høholt i forbindelse prisoverrækkelsen.
...
PETER LINDE BUSK
On the 26th of February 2020, the New Carlsberg Foundation's Art Awards were handed out at the annual award ceremony at the New Carlsberg Glyptotek. The New Carlsberg Foundation's Artist Grants this year were amongst others awarded to the visual artist Peter Linde Busk. He received The New Carlsberg Foundation's Artist Grant of DKK 175,000.
From board member Stine Høholt's speech at the award ceremony: "Over the past 10 years, Peter Linde Busk has made his mark with a coherent artistic expression that is a result of his profound grasp of material properties and painstaking working processes. His works have great artistic substance by virtue of their multiple references to art history and literature but also a sense of lightness, life and irony intoned by unusual titles that condition our understanding of the works."
YEAR: 2020
CAST: Peter Linde Busk
PRODUCER: Jacob Jørgensen
DIRECTOR: Mads Jørgensen
DURATION: 04:24 min
LANGUAGE: Danish
Short formats