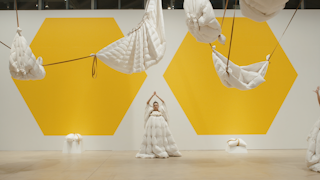 Lilibeth Cuenca Rasmussen
Short formats
Lilibeth Cuenca Rasmussen
Lilibeth Cuenca Rasmussen
Dette studio visit hos Lilibeth Cuenca Rasmussen er produceret for Ny Carlsbergfondet i anledning af deres årlige prisfest, som hylder personer, der yder en særlig indsats i kunstens tjeneste og for det danske kunst- og museumslandskab. Grundvilkåret for denne produktion er, at den er produceret på én dag.
Ny Carlsbergfondet om tildelingen af Kunstnerlegatet til Lilibeth Cuenca Rasmussen:
"Performance er et helt klart hovedsporet i dit virke. Du blev tidligt optaget af re-enactments i 00'erne, og du bragte ny viden om performancegenren til Danmark fra New York. Selv står du bag en række banebrydende performanceværker. Og det er ikke helt forkert, når du beskriver dig selv som "en levende skulptur, der kan snakke". Men du har også banet vejen for andre, nye kunstnerskaber. Det har du gjort via din indsats som professor ved kunstakademiet i Bergen. Her har du været med til at uddanne en ny generation indenfor tids- og performancebaseret kunst."
...
Lilibeth Cuenca Rasmussen
This studio visit with Lilibeth Cuenca Rasmussen was produced for The New Carlsberg Foundation's Art Awards 2023, which celebrates individuals who make a special contribution to the arts and to the Danish art and museum landscape. The condition for this production was that it was produced in just one day.
The New Carlsberg Foundation on awarding the Artist Grant to Lilibeth Cuenca Rasmussen:
"Performance is a clear focus in your work. You were early fascinated by re-enactments in the 00s, and you brought new knowledge about the performance genre to Denmark from New York. You have created a number of groundbreaking performance works. And it's not entirely wrong when you describe yourself as "a living sculpture who can talk." But you have also paved the way for other new artistic expressions. You have done this through your work as a professor at the Academy of Fine Arts in Bergen. Here, you have helped educate a new generation in time- and performance-based art."

———————————
YEAR: 2023
CAST: Lilibeth Cuenca Rasmussen
PRODUCER: Sophie Kampmann
DIRECTOR: Mads Jørgensen
EDITOR: Henrik Lundø
DURATION: 04:22 min
LANGUAGE: Danish
Short formats