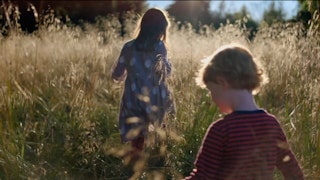 H.C. Andersen's House - A brand new museum like no other
Commercials
H.C. Andersen's House - A brand new museum like no other

H.C ANDERSEN'S HOUSE - A BRAND NEW MUSEUM LIKE NO OTHER
30. juni 2021 åbnede den største nye attraktion i Odense i mange år - et nyt H.C. Andersen Hus. Museet er tegnet af den berømte japanske arkitekt Kengo Kuma og består af både indendørs og udendørs rum, der tilsammen strækker sig over 12600 m2 (2/3 af museet befinder sig under jorden).

Fra 2021 udgør hans fantastiske fortællinger også fundamentet for en helt ny type museum, der rumliggør oplevelsen af Andersens litterære univers og iscenesætter en levende verden, et totalkunstnerisk rum, hvor arkitektur, lyd, lys og en strøm af billeder hele tiden skaber nye møder mellem den besøgende og Andersens eventyr. Som museum og oplevelsesattraktion dyrker H.C. Andersens Hus forundringen, fantasien og eventyroplevelser, der vækker til eftertanke og skaber nye perspektiver på os selv, naturen og samfundet. Formidlingen på museet bliver således ikke bare om Andersen, men i høj grad som Andersen og hans litterære univers.
...
H.C. ANDERSEN'S HOUSE - A BRAND NEW MUSEUM LIKE NO OTHER
The newly built H.C. Andersen House in the historic quarter, close to Møntergården and the Odeon Concert Hall, allows you to see new sides of H.C. Andersen's authorship. Here the focus is not on the person Andersen and his story, but rather on the fairy tales he wrote and their voice. The new museum does not talk ABOUT H.C. Andersen, it speaks AS H.C. Andersen. The museum building itself covers an area of 5,600 square meters and houses a children's cultural centre and an underground museum that intertwine with a surrounding magical garden. The little yellow corner house formerly known as H.C. Andersen's birth home will be part of the new museum.
The ambitious museum building was designed by Japanese star architect Kengo Kuma and realized with a crucial donation from A.P. Møller Foundation. Architect Kengo Kuma and his design studio are also behind the new Olympic Stadium in Tokyo.
YEAR: 2021
CAST: Henrik Lübker, Kengo Kuma
PRODUCER: Mads Jørgensen
DIRECTOR: Émile Sadria
DURATION: 01:46 min
LANGUAGE: English
Commercials