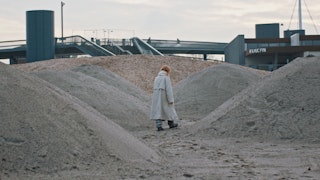 Lea Porsager
Short formats
Lea Porsager
LEA PORSAGER
Ny Carlsbergfondets Kunstnerlegat gives i 2022 til to kunstnere: Lea Porsager og Tue Greenfort. Prisen tildeles til en eller flere kunstnere, der med mod, originalitet og gennemslagskraft markerer sig både i Danmark og internationalt.
Lea Porsager har en brændende kunstnerisk vision, et stærkt intellekt og evnen til at opnå resultater sammen med andre. Hun har gjort bemærket gennem udsmykninger i det offentlige rum, hvor hun for alvor har slået sin position fast, som en kunstner, der leverer det uventede konceptuelle greb. Lea Porsager hædres af Ny Carlsbergfondet for at tilføre dansk samtidskunst en helt særlig konceptuel position. For unik og vild kunst i det offentlige rum. Og for en helt enestående kobling af det spirituelle og videnskaben, som viser os alternative stadier for billedkunst.
...
LEA PORSAGER
The New Carlsberg Foundation's Artist Grant 2022 is awarded to two artists: Lea Porsager and Tue Greenfort. This award is given to one or more artists who stand out, both in Denmark and abroad, with courage, originality and impact.
Lea Porsager has a burning artistic vision, a powerful intellect and the ability to achieve results in collaboration with others. She has made a name for herself through decorative projects in the public space, firmly establishing her position as an artist who delivers an unexpected conceptual perspective. Lea Porsager is recognized by the New Carlsberg Foundation for bringing an exceptional conceptual position to Danish contemporary art. For unique and wild art in the public space. And for her unparalleled coupling of the spiritual and scientific realms that shows us alternative positions of visual art.
YEAR: 2022
CAST: Lea Porsager
PRODUCER: Jacob Jørgensen
DIRECTOR: Mads Jørgensen
DURATION: 04:12 min
LANGUAGE: Danish
Short formats