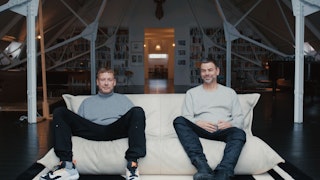 Elmgreen & Dragset
Short formats
Elmgreen & Dragset
ELMGREEN & DRAGSET
Elmgreen & Dragset tildeles Ny Carlsbergfondets Hæderslegat 2022.
Under en umiddelbart fængende appel, ofte med et let aflæseligt fortællende symbolsprog, og med et ikke ubetydeligt element af humor, ligger der i Elmgreen & Dragsets værker altid et dybere lag af kritik af vores fordomme og antagelser om verden, samt modet til at udfordre gældende magtstrukturer. Det være sig politiske, kulturelle eller for den sags skyld kommercielle. Særligt vil Ny Carlsbergfondet gerne fremhæve Elmgreen & Dragset for deres eminente evne til at skabe kunstværker til det offentlige rum.
...
ELMGREEN & DRAGSET
The New Carlsberg Foundation's Honorary Grant 2022 is awarded to
Elmgreen & Dragset. This award is given to one or more persons working in the service of the arts who have demonstrated exceptional professional ambitions over time and have had a significant impact on the Danish art world.

Underneath a strong immediate appeal, often with easily decoded symbolism and more than a touch of humour, Elmgreen & Dragset's art always contains a deeper aspect of critique of our prejudices and assumptions about the world as well as the courage to challenge the current structures of power, whether political, cultural or, for that matter, commercial. In particular, the New Carlsberg Foundation wishes to acknowledge Elmgreen & Dragset's outstanding ability to create works of art for the public space.
YEAR: 2022
CAST: Michael Elmgreen & Ingvar Dragset
PRODUCER: Jacob Jørgensen
DIRECTOR: Mads Jørgensen
DURATION: 04:27 min
LANGUAGE: Danish
Short formats