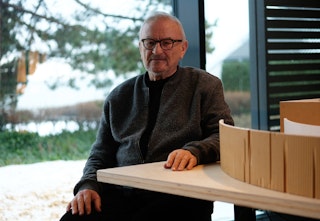 Kjeld Kjeldsen
Short formats
Kjeld Kjeldsen
KJELD KJELDSEN
Med Ny Carlsbergfondets Kunstpriser anerkender fondet personer, der yder en særlig indsats i det danske kunst- og museumslandskab. I år 2021 er i alt fire priser uddelt. Ny Carlsbergfondets Kunstnerlegater tildeles Nina Beier og Kathrine Ærtebjerg. Direktør for Den Hirschsprungske Samling, Gertrud Oelsner, hædres med Carl Jacobsens Museumsmandslegat. Og Ny Carlsbergfondets Hæderslegat gives til museumsinspektør på Louisiana Kjeld Kjeldsen.
I begrundelsen fra Ny Carlsbergfondets bestyrelse hedder det: "Kjeld Kjeldsen er ikke bare Louisianas ekspert, han er Danmarks dygtigste formidler af arkitektur. I snart fem årtier har han med sin høje faglighed og enestående internationale netværk trukket arkitektur fra hele verden til Humlebæk med den ene øjenåbnende udstilling efter den anden. Visionært og kreativt har han samtidig fornyet selve udstillingsmediet med en tværæstetisk tilgang, der kobler arkitekturen med bl.a. billedkunst og design. Hans udstillinger tilgår altid verden og publikum med udgangspunkt i aktuelle og relevante spørgsmål og tendenser, som har vist betydningen af arkitektur i et samfundsmæssigt og globalt perspektiv. Kjeld Kjeldsen hædres for sit livslange arbejde med at formidle arkitekturen og dens verden, så den bliver både nærværende, relevant og sanselig."
...
KJELD KJELDSEN
The New Carlsberg Foundation's Art Awards are given in recognition of special contributions to the Danish art and museum landscape. Four art awards were in 2021 handed out. The New Carlsberg Foundation's Artist Grant is awarded to both Nina Beier and Kathrine Ærtebjerg. Director of the Hirschsprung Collection Gertrud Oelsner receives Carl Jacobsen's Museum Professional Grant. And the New Carlsberg Foundation's Honorary Grant is awarded to curator Kjeld Kjeldsen at the Louisiana Museum of Modern Art.
From the statement of the New Carlsberg Foundation's board: 'Kjeld Kjeldsen is not just Louisiana's expert, he is Denmark's leading communicator in architecture. For almost five decades, thanks to his high consummate professionalism and unique international network, he has drawn architecture from all over the world to Humlebæk in one eye-opening exhibition after another. In a visionary and creative approach, he has also renewed the exhibition medium with a cross-aesthetic approach that connects architecture with the visual arts and design, among other fields. His exhibitions always approach the world and the audience with a basis in current and relevant issues and trends that demonstrate the significance of architecture in a societal and global perspective. Kjeld Kjeldsen is recognized for his life-time contribution in communicating architecture and its world in a way that makes it resonant, relevant and sensuous.'
YEAR: 2021
CAST: Kjeld Kjeldsen
PRODUCER: Jacob Jørgensen
DIRECTOR: Mads Jørgensen
DURATION: 04:28 min
LANGUAGE: Danish
Short formats