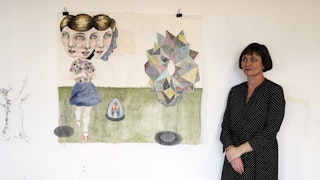 Julie Nord
JULIE NORD
Onsdag 6. marts 2019 blev Ny Carlsbergfondets Kunstpriser uddelt ved fondets årlige prisfest på Ny Carlsberg Glyptotek. Ny Carlsbergfondets Kunstnerlegater blev i år tildelt billedkunstnerne Jesper Just og Julie Nord. Ny Carlsbergfondets Hæderslegat blev overrakt til Poul Erik Tøjner, direktør på Louisiana.
Fra bestyrelsesmedlem Morten Kyndrups tale ved prisoverrækkelsen: "Julie Nords arbejde er nemt at gå til og samtidig svært at gå fra. Det ligner noget, vi kender, og samtidig er det fyldt med modhager. Hendes værker er gennemtrukket af denne distinkte tvetydighed. Ikke elegant eller diskret, men en 'take it to the limit'-tvetydighed. Vi møder maksimal kliché og maksimal modhage eller glasskår i én og samme gestus."
...
JULIE NORD
On Wednesday, 6 March 2019, the New Carlsberg Foundation's Art Awards were handed out at the foundation's annual award event at the Ny Carlsberg Glyptotek. This year, the New Carlsberg Foundation's Artist Grants were awarded to the pictorial artists Jesper Just and Julie Nord. The New Carlsberg Foundation's Honorary Grant was awarded to Poul Erik Tøjner, director of Louisiana Museum of Modern Art.
From board member Morten Kyndrup's speech at the award event: 'Julie Nord's work is both easily accessible and hard to walk away from. It has a familiar feel, yet it's full of barbs. Her works are permeated by this distinctive ambiguity. Not elegant or discreet but a "take it to the limit" ambiguity. We encounter maximal cliché and maximal barbs or shard of glass in one and the same gesture.'
YEAR: 2019
CAST: Julie Nord
PRODUCER: Jacob Jørgensen
DIRECTOR: Mads Jørgensen
DURATION: 03:31
LANGUAGE: Danish
Short formats