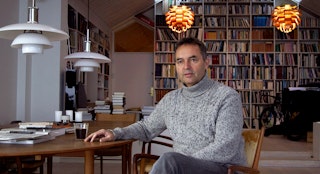 Poul Erik Tøjner
Short formats
Poul Erik Tøjner
POUL ERIK TØJNER
Onsdag 6. marts 2019 blev Ny Carlsbergfondets Kunstpriser uddelt ved fondets årlige prisfest på Ny Carlsberg Glyptotek. Ny Carlsbergfondets Kunstnerlegater blev i år tildelt billedkunstnerne Jesper Just og Julie Nord. Ny Carlsbergfondets Hæderslegat blev overrakt til Poul Erik Tøjner, direktør på Louisiana.
Fra bestyrelsesmedlem Stine Høholts tale ved prisoverrækkelsen: "Poul Erik Tøjners tilgang til jobbet er anderledes end de fleste museumsdirektørers tilgang: Han redigerer Louisiana. Han har sans for, hvad der rører sig, og hvad der rører andre. Han har blik for det kunstnerisk nødvendige. Med et greb, der både er stort nok til at favne kunsten og flyve henover den på nye måder, formår Poul Erik år efter år at skræddersy et udstillingsprogram, som kan det hele – og lidt til."
...
POUL ERIK TØJNER
On Wednesday, 6 March 2019, the New Carlsberg Foundation's Art Awards were handed out at the foundation's annual award event at the Ny Carlsberg Glyptotek. This year, the New Carlsberg Foundation's Artist Grants were awarded to the pictorial artists Jesper Just and Julie Nord. The New Carlsberg Foundation's Honorary Grant was awarded to Poul Erik Tøjner, director of Louisiana Museum of Modern Art.
From board member Stine Høholt's speech at the award event: 'Poul Erik Tøjner's approach to his work differs from that of most museum directors: he edits Louisiana. He has a sense for what is happening and what moves us. He has an eye for artistic necessity. With a grasp that is wide enough both to embrace art and to fly over it in new ways, Poul Erik manages, year after year, to create a bespoke exhibition programme that has it all – and then some.'
YEAR: 2019
CAST: Poul Erik Tøjner
PRODUCER: Jacob Jørgensen
DIRECTOR: Mads Jørgensen
DURATION: 04:09 min
LANGUAGE: Danish
Short formats