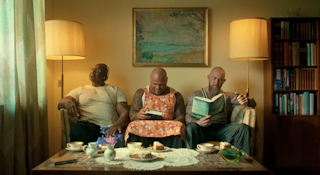 Gyldendals Bogklubber - Læselounge
Commercials
Gyldendals Bogklubber - Læselounge
GYLDENDALS BOGKLUBBER - LÆSELOUNGE
I denne TV-reklame for Gyldendals Bogklubber, møder vi en passioneret læseklub, hvis vært omhyggeligt gør klar med med kaffe og kage til sine læselystne gæster. Og endelig træder han ind til gæsterne i stuen...
...
GYLDENDAL'S BOOK CLUBS - READING LOUNGE
In this TV commercial for Gyldendal's Book Clubs, we meet a passionate book club, whose host carefully prepares coffee and cake for his very eager-to-read guests. And finally, he enters the living room...
YEAR: 2021
CAST: Christian Hornhof, Thomas Davidsen & Andreas Balslev van Randwijk
PRODUCER: Mads Jørgensen
DIRECTOR: Émile Sadria
DURATION: 00:30 min
LANGUAGE: Danish
Commercials